Polishing system
What is concrete polishing?
Similar to epoxy flooring is polished concrete. Polished concrete flooring has the same shine and sleek feel to it, without pouring epoxy on top. It is, however, not as durable, long lasting, or stain resistant as epoxy flooring. If you do choose to go with polished concrete, we can handle it no problem. Concrete floors are rough and have blemishes or divots. Abrasive diamond fragments are used to buff the concrete, so it is free of any imperfections. Then, it is best to seal it to keep it from damaging easily right away. It's also important to keep polished concrete floors clean and buffed on a regular basis to maintain them properly. You wouldn't want to go through the trouble of getting your concrete polished and then let it get in disrepair.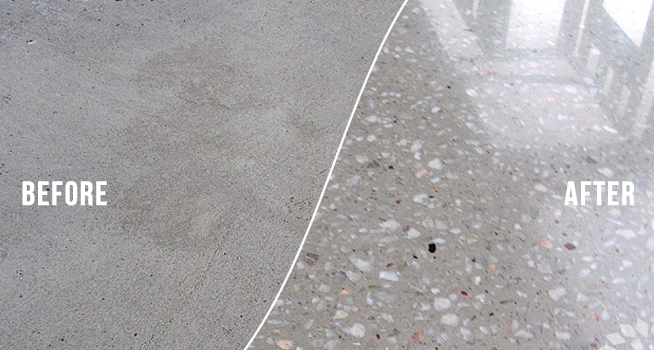 Concrete Repair
Resurfacing and Preparation
From industrial facilities to offices and homes, concrete work often needs to be improved. Polished concrete floors require a certain level of grinding before they can truly be polished. Grinding and polishing concrete is a multi-step process, and a necessity before staining or dying concrete.
Concrete Grinding
We use specially designed equipment with abrasive pads to grind down imperfections. Using a progressively finer abrasive pad we are able to smooth out the surface of the concrete. As a preparation for stains or dyes, grinding "opens up" the concrete to facilitate optimal penetration of the color. With deeper penetration your colored concrete will last longer than a simple surface film of color.
Foundation Repair
Foundations support and maintain the biggest investment that we make in our lives – our homes. They are the most crucial part of the structural integrity of absolutely any construction project and without them, we simply wouldn't be able to create strong houses. But after some time, foundations do start to deteriorate from their best and that can cause problems to the entire structure. If you notice that your foundations are showing signs of weakening and failing, you should seek out repair works right away.